A key moment in the life-cycle of so many companies is their decision to take on a rebrand. Google was originally named BackRub, Nike was Blue Ribbon Sports, and IBM was Computing Tabulating Recording Corporation. Each of those companies decided to undergo a rebrand that helped shape the course of their brand's future successfully. If you've finally decided it's time for your own rebrand, consider this guide to follow in these companies' footsteps for a successful transition.
Common reasons for a rebrand
For those still not convinced you need a rebrand, here are a few of the most common reasons clients have brought to Mythos:

If any of these sound familiar to you or you're just looking to place your company a step above your competitors, a rebrand may just be a consideration for you.
Gather insights
Your brand not only affects your team members, but your appearance to your customers and other outsiders. It helps define your place among your peers and inform potential customers about your value. Accordingly, your customers are a great source of insight for you during a rebrand. Either in-house or through an experienced branding agency (hi there), you can reach out to customers to gather information on how your company is perceived, where your strengths lie, and where you can boost your messaging to the outside world. Once concepts are created, you can even test these on either internal team members or customers to gauge a reaction from a small sample audience, hopefully avoiding any unforeseen catastrophic issues.
In addition to customers, you'll need to engage any key stakeholders in your organization and help them understand how a rebrand can help both themselves and the company. Emphasize how this transition can benefit the company and use any insights they provide alongside your customer insights to inform your final brand decision.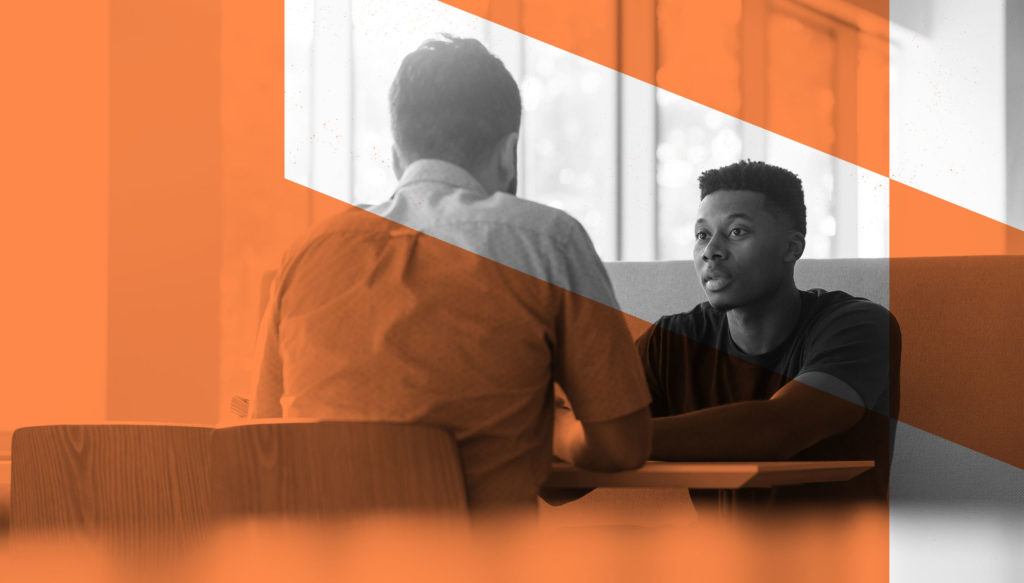 Align on a vision for the future
Speaking of these stakeholders, they are key pieces to a rebranding success. Your company must present a consistent image to the outside world in order to project a strong brand. When you speak with your team, start by outlining business goals. Carefully consider your business's goals and how the rebrand can contribute to your growth.
Fill out a comprehensive design brief
A successful rebrand usually doesn't start with the phrase "I just want a catchier name," but with something more along the lines of "our brand no longer aligns with our goals and values." A design brief can help build on that phrase and elaborate on what you're looking to achieve. It will further align your team on your goals and will greatly help whoever you hire for the rebrand in understanding their objectives.
Consider costs and benefits
Everything can't always be roses. As a business, you ultimately have limited money and resources and must appropriate them wisely. Considerations must be made to ensure that your rebrand is a worthwhile endeavor.
Brand loyalty and name recognition. Are you the Kleenex or Xerox of your field? How memorable is your name and how much do people associate it with your product? You already have a tribe of customers and if they can easily recall your name, a rebrand might not be the best idea. Alternatively, a brand refresh could be a great choice. See the example of the Tillamook rebrand from April 2019 for perfect execution of this. Subtle logo fixes, color changes, font updates, packaging refresh, and a site update could give you a fresh look while retaining customer loyalty.
The all-powerful google, aka SEO. You already have a presence on search engines, from your landing page to your articles, your LinkedIn, and anything outside people have written about you. Rebuilding is no small matter and should be considered carefully if a full name change is to be successful. With proper redirects set up, you should be able to see very little churn, but it will take some effort.
That short, perfect name/domain. Maybe you already own that perfect domain name, or you have that amazingly catchy and succinct name. This one is somewhat ephemeral, but one of the only places where "you know it when you see it" actually applies. A great name with a great domain name counterpart are hard to come by, and if you already have them it might be time to stay put and again think about maybe a more subtle brand refresh.
Make the leap
A rebrand is a multi-step journey that should be approached with careful consideration. It can be a big leap in your company's trajectory if done right, but must be exercised well. Consider your business goals and vision, and find the right designer or agency to work with you to visualize those into an identity. With this guide, hopefully you're off to a great start down this path.
Ready to make your rebrand a reality?